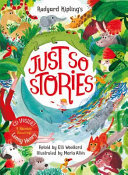 $20.00
NZD
Category: Classics
A magical, rhyming retelling of five of Rudyard Kipling's beloved tales from Just So Stories, with an audio CD performed by Lenny Henry. One of the enduring classics of children's literature Kipling's Just So Stories have delighted generations of children. Witty and inventive, his stories tell of how t he world came to be as it is - from how the camel got his hump to why rhinos have wrinkly skin. Combining the brilliant rhyming talent of Elli Woollard and stunning artwork from award-winning illustrator Marta Altés, Rudyard Kipling's Just So Stories is a smart, funny, and younger retelling for a whole new generation of readers. Stories include: How the Whale got his Throat, How the Camel got his Hump, How the Rhinoceros got his Skin, The Elephant's Child, and The Cat that Walked by Himself. ...Show more
$20.00
NZD
Category: Classics | Series: Pippi Longstocking
Loved by millions of children around the world Pippi Longstocking is one of the most popular children's characters of all time. This new edition of the classic story by Astrid Lindgren contains brand new black and white artwork by award-winning illustrator Mini Grey, introducing Pippi's adventurous spir it to a whole new generation of readers. ...Show more
$30.00
NZD
Category: Hardback Picture Books
Get lost in this magical world full of beasts -- both familiar and fantastical -- with your children while reading and re-reading Jabberwocky year after year. 'Twas brillig, and the slithy toves did gyre and gimble in the wabe; All mimsy were the borogoves, and the mom raths outgrabe. Lewis Carroll's mo st iconic seemingly nonsensical poem is brought to life like never before with award-winning illustrator Charles Santore's stunning renditions of a brave warrior who is on a mission to slay the dastardly Jabberwock. Get lost in this magical world full of beasts (both familiar and fantastical) with your children while reading and re-reading Jabberwocky year after year. ...Show more
$17.00
NZD
Category: Classics
Nobody loves Mary - the heroine of the famous story of Francis Burnett "The Secret Garden". However, she does not burn with love for others, and moreover - she can not stand the whole world. And then her parents are passing away prematurely. There is an impression that nothing good can happen to her in this life. But there is a miracle: the fate itself extends the heroine of the book to the saving hand and leads to the path leading to the beautiful Secret Garden... ...Show more
$16.00
NZD
Category: Classics | Series: The World of Beatrix Potter
Beatrix Potter's Classic Children's Stories in beautiful eBook editions The Tale of the Flopsy Bunnies is set in Beatrix Potter's world of Peter Rabbit and Benjamin Bunny. In this story, Benjamin Bunny's children, the Flopsy Bunnies, eat too many lettuces from Mr. McGregor's garden that they become slee py and are almost turned into a rabbit pie.The Tale of the Flopsy Bunnies by Beatrix Potter is part of the Xist Publishing Children's Classics collection. Each eBook has been specially formatted with full-screen, full-color illustrations and the original, charming text. ...Show more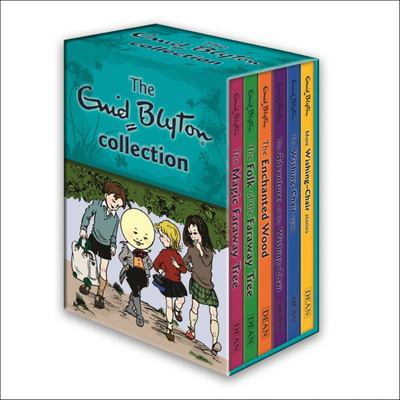 $50.00
NZD
Category: Classics
Includes stories such as The Magic Faraway Tree, The Folk of the Faraway Tree and The Enchanted Wood accompanied by The Adventures of the Wishing-Chair, The Wishing-Chair Again and More Wishing-Chair Stories.
$30.00
NZD
Category: Classics
Bedtime Classics introduce classic works of fiction to little literary scholars through character driven narratives and colorful illustration. Designed to be the perfect one minute bedtime story (or five minutes-if you're begged to read it over and over) parents can feel good about exposing their childr en to some of the most iconic pieces of literature while building their child's bookshelf with these trendy editions! Alice tumbles down the rabbit hole and enters a magical place called Wonderland, where she meets some curious characters before awaking to find it was all a dream. ...Show more
$18.00
NZD
Category: Classics | Series: The Magic Faraway Tree
The first magical story in the Faraway Tree series by one of the world's most popular children's authors, Enid Blyton. Joe, Beth and Frannie find the Enchanted Wood on the doorstep of their new home, and when they discover the Faraway Tree they fall into all sorts of adventures! Join them and their frie nds Moonface, Saucepan Man and Silky the fairy as they discover which new land is at the top of the Faraway Tree. Will it be the Land of Spells, the Land of Treats, or the Land of Do-As-You-Please? Discover the magic! First published in 1939, this edition contains the original text. Inside illustrations are by Jan McCafferty, and the cover by Mark Beech (2014). ...Show more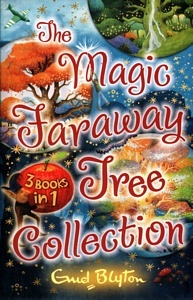 $20.00
NZD
Category: Classics | Series: The Magic Faraway Tree
Discover a whole new world and enjoy three books in one! Joe, Beth and Frannie move next door to an Enchanted Wood, and discover the Faraway Tree with its many different lands. They meet Moon-Face, Saucepan Man and Silky Fairy, and get to slide down the slippery-slip!
$18.00
NZD
Category: Classics
A Puffin Book - stories that last a lifetime. Puffin Modern Classics are relaunched under a new logo: A Puffin Book. There are 20 titles to collect in the series, listed below, all with exciting new covers and fun-filled endnotes. A fabulous adventure for children by Robert C. O'Brien about super-intell igent rats. They are not like other rats. They work at night, in secret...Time is running out for Mrs Frisby. She must move her family of mice before the farmer destroys their home. But her youngest son, Timothy, is too ill to survive the move. Help comes in the unexpected form of a group of mysterious, super-intelligent rats. But the rats are in danger too, and little by little Mrs Frisby discovers their extraordinary past...Robert C. O'Brien was, in private life, Robert Conly, senior assistant editor of National Geographic Magazine where he worked for over twenty years. He wrote three books for children and one for adults and won the Newbery Medal for Mrs Frisby and the Rats of Nimh, filmed as The Secrets of Nimh. Robert C. O'Brien died in 1973. Also available in A Puffin Book: Goodnight Mister Tom and Back Home by Michelle Magorian; Charlotte's Web, Stuart Little And The Trumpet Of The Swan by E. B. White; The Borrowers by Mary Norton; Stig Of The Dump by Clive King; Roll Of Thunder, Hear My Cry by Mildred D. Taylor; A Dog So Small by Philippa Pearce; Gobbolino by Ursula Moray Williams; Carrie's War by Nina Bawden; Mrs Frisby and The Rats Of Nimh by Richard C O'brien; A Wrinkle In Time by Madeleine L'engle; The Cay by Theodore Taylor; Tarka The Otter by Henry Williamson; Watership Down by Richard Adams; Smith by Leon Garfield; The Neverending Story by Michael Ende; Annie by Thomas Meehan; and The Family From One End Street by Eve Garnett. ...Show more
$20.00
NZD
Category: Classics | Series: Lord of the Rings
Continuing the story begun in The Hobbit, this is the first part of Tolkien's epic masterpiece, The Lord of the Rings, featuring an exclusive cover image from the film, the definitive text, and a detailed map of Middle-earth. Sauron, the Dark Lord, has gathered to him all the Rings of Power - the means by which he intends to rule Middle-earth. All he lacks in his plans for dominion is the One Ring - the ring that rules them all - which has fallen into the hands of the hobbit, Bilbo Baggins. In a sleepy village in the Shire, young Frodo Baggins finds himself faced with an immense task, as his elderly cousin Bilbo entrusts the Ring to his care. Frodo must leave his home and make a perilous journey across Middle-earth to the Cracks of Doom, there to destroy the Ring and foil the Dark Lord in his evil purpose. To celebrate the release of the first of Peter Jackson's two-part film adaptation of The Hobbit, THE HOBBIT: AN UNEXPECTED JOURNEY, this first part of The Lord of the Rings is available for a limited time with an exclusive cover image from Peter Jackson's award-winning trilogy. ...Show more