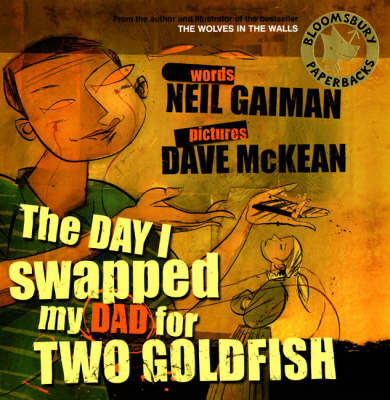 $20.00
NZD
Category: Picture Books with CD
Never swap your dad with friends, because you might not get him back. When a boy swaps his dad for two goldfish he does not really think through the consequences! After all, he is not the only person who can swap stuff. When the boy is told by his mother that he has to get his father back it is not so e asily done. It seems that the father has a pretty high value and he has been traded by one child to the next leaving a trail that the son has to follow. Where will it all end? Read on CD by Neil Gaiman. ...Show more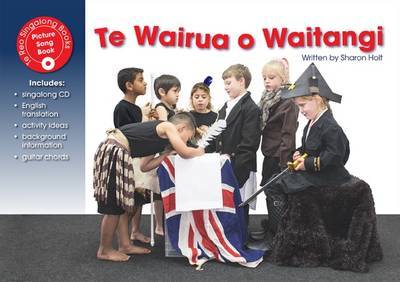 $26.00
NZD
Category: Te Reo Maori Language | Series: Te Reo Singalong | Reading Level: very good
Te Wairua o Waitangi is a full colour picture book with a singalong CD. It is part of the multi-award winning Te Reo Singalong series that makes it easy and fun for teachers, parents and children to use more te reo Maori. No prior knowledge of te reo is needed.
$19.00
NZD
Category: NZ Picture Books | Series: Nee Naw
Oh no! How can that be? Grannys cow PLOPPY is stuck up a tree. With a loud TOOT-TOOT and a HIP-HOORAY, look whos coming to save the day... NEE NAW! NEE NAW! Im a little fire engine. NEE NAW! NEE NAW! Im happy Im me. Another hilarious, trouser-ripping rescue from the creators of Nee Naw the Little Fire E ngine, Jingle Bells, Rudolph Smells, and Stink-o-saurus! ...Show more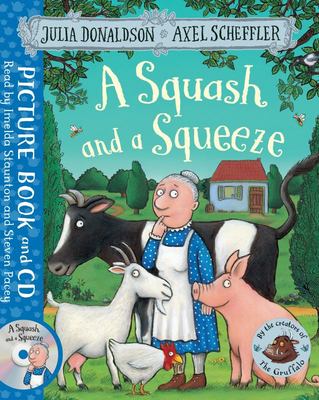 $23.00
NZD
Category: Picture Books with CD
A special book and CD edition of the bestselling A Squash and a Squeeze. "Wise old man, won't you help me, please? My house is a squash and squeeze." A little old lady lives all by herself in her house but she's not happy - it's just too small, even for one. Whatever can she do? The wise old man knows: bring in a flappy, scratchy, greedy, noisy crowd of farmyard animals. When she pushes them all out again, she'll be amazed at how big her house feels! The brilliantly funny A Squash and a Squeeze was the first ever picture book written and illustrated by the unparalleled picture-book partnership of Julia Donaldson and Axel Scheffler, creators of The Gruffalo. A Squash and a Squeeze Book and CD Pack features the classic story with a stunning redesigned cover and finish, and a story CD read aloud by actress Imelda Staunton, making it a must-have addition to the bookshelves of all Donaldson and Scheffler fans - big and small! Other available book and CD packs with redesigned covers are The Gruffalo, The Gruffalo's Child, Room on the Broom, The Snail and the Whale, The Smartest Giant in Town, Monkey Puzzle and Charlie Cook's Favourite Book. ...Show more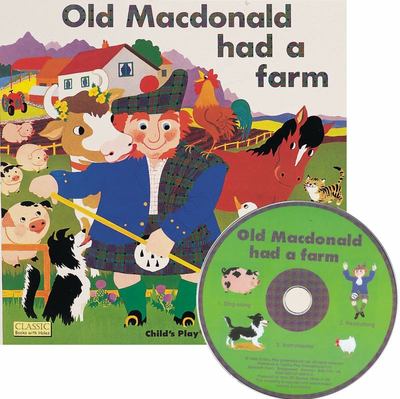 $20.00
NZD
Category: Picture Books with CD
This Package contains - Soft cover book plus audio CD containing Sung / Spoken and Instrumental versions of the classic nursery rhyme.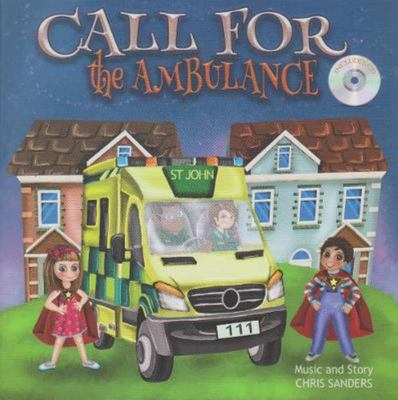 $20.00
NZD
Category: NZ Picture Books
The 'Call For the Ambulance' Book featuring the catchy #1 Hit '111 Ambulance Song' will save lives, by empowering children with the knowledge of how to react in an emergency. Written and sung by #1 Children's Hit Songwriter Chris Sanders, the picture book and song (CD included) has been written for St John New Zealand to support their ASB St John in Schools education programme. As a follow up to the release of the 111 Ambulance Song which went to #1 on iTunes and Google Play and was the highest ever charting kiwi kids song. This will become the go-to book and song for Kindergarten to Primary aged Children and a great tool for parents to help their Children learn the emergency number. It's literally a step-by-step guide for Children about how to call an ambulance should they find themselves in a situation that requires this action to be taken, asking questions such as: Would you know what to do in an emergency? How would you react under pressure? Could you locate the phone in an emergency? Are you confident enough to pick up the phone and dial 111? ...Show more
$22.00
NZD
Category: NZ Picture Books
Wonky Donkey has a daughter with the same rambunctious spirit as her dad. Kids, parents and their loved ones will enjoy the hilarity and cumulative read-aloud fun. This cute little pint-sized donkey has beautiful long eyelashes, loves to listen to music, paints her hooves bright pink, sometimes has to g o pee-pee, loves to play piano, has a very cool spiky haircut . . . and sometimes smells a bit bad (like her Dad!). She's a blinky, funky, pinky . . . you know how it goes . . . dinky donkey! Wonky and Dinky become the perfect duo to get even more young children reading (and hopefully some more grandmothers, too)! ...Show more
$19.00
NZD
Category: NZ Picture Books | Series: Nee Naw
NEE NAW! NEE NAW! I'm a little fire engine. NEE NAW! NEE NAW! I'm happy I'm me. Get your siren going and sing along with a FFFTTT PLOP BANG as Nee Naw, the little fire engine, saves the day.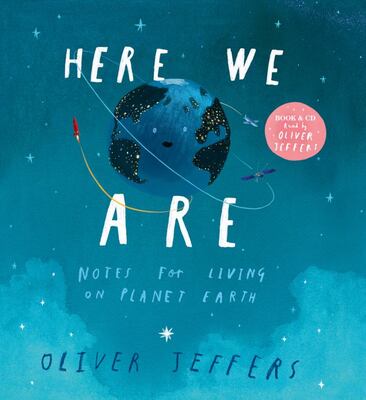 $30.00
NZD
Category: Picture Books with CD
This book and CD edition of the exquisite and thought-provoking Here We Are comes with heartfelt, award-winning audio, read by the internationally best-selling creator himself, Oliver Jeffers! Well, hello. And welcome to this Planet. We call it Earth. Our world can be a bewildering place, especially if you've only just got here. Your head will be filled with questions, so let's explore what makes our planet and how we live on it. From land and sky, to people and time, these notes can be your guide and start you on your journey. And you'll figure lots of things out for yourself. Just remember to leave notes for everyone else… Some things about our planet are pretty complicated, but things can be simple, too: you've just got to be kind. Here We Are is the utterly heartfelt new book from Oliver Jeffers. We're glad you found it. "An optimistic snapshot of contemporary life, this heartfelt hug of a book ought to become a classic" The Guardian ...Show more

$20.00
NZD
Category: NZ Picture Books | Reading Level: very good
Kia kaha! Kia kaha! Together, standing strong. We join our hands in friendship, thats how we get along. All around our gentle land, no matter where were from ... we fill the air with laughter and our kia kaha song! Find a friend and sing along to Aotearoa's catchy KIA KAHA song. Featuring June Pitman-H ayes with children's entertainer Pio Terei, singing in English and Maori. ...Show more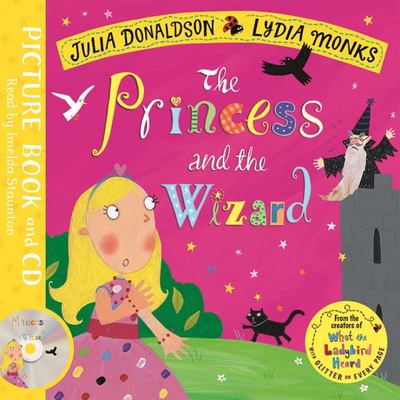 $20.00
NZD
Category: Picture Books with CD
Princess Eliza must find a way to outwit the wicked wizard and escape from him in time for her birthday tea in this magical rhyming story, now with a fresh, redesigned cover and glitter on every page. This paperback edition also contains an audio CD of the story, read by award-winning actress Imelda Sta unton.The princess may try seven times to escape,By changing her colour and changing her shape.But each time Princess Eliza changes - into a blue fish, a yellow chick, a red fox or a black cat - the wicked wizard finds her and gives her another horrible task to complete. Will this plucky princess be able to outwit him and escape back to the palace in time to cut her birthday cake?The Princess and the Wizard is a magical adventure from the stellar picture book partnership of Julia Donaldson and Lydia Monks, creators of What the Ladybird Heard. With brilliant rhyming verse, bright and distinctive illustrations and glitter on every page, this story is perfect for reading together.Enjoy all the stories from Julia Donaldson and Lydia Monks, now with beautiful, redesigned covers: Sharing a Shell, The Rhyming Rabbit, The Singing Mermaid, Sugarlump and the Unicorn, Princess Mirror-Belle and the Dragon Pox, What the Ladybird Heard, What the Ladybird Heard Next, and What the Ladybird Heard on Holiday. ...Show more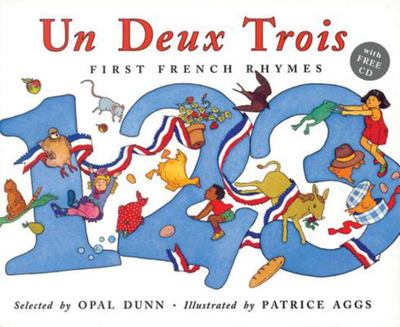 $26.00
NZD
Category: Picture Books: Languages
Simple songs and rhymes are an excellent way to familiarise young children with another language. Un Deux Trois, a collection of 25 traditional nursery rhymes, is a delightful way to introduce French. An illustrated vocabulary features simple words and phrases that are easy to learn and that can be use d in games or everyday life. Children are encouraged to repeat the phrases and sing along with the rhymes, and the included CD lets them know how both should sound. The lively illustrations and amusing rhymes make learning a new language fun. A guide for parents translates more difficult phrases. ...Show more