Books on composition & creative writing skills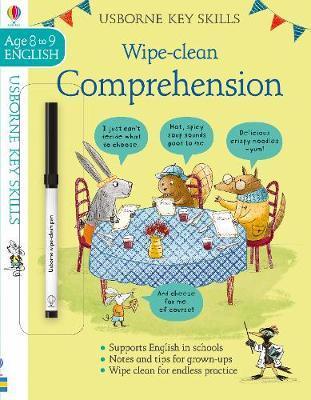 $15.00
NZD
Category: Writing Skills | Series: Usborne Key Skills: Wipe Clean
This book offers children the opportunity to analyse and respond to many types of writing. It elicits their ideas in a supportive way and encourages them to re-draft their work until they are happy. Each activity is based on comprehension skills taught in schools and there is ample scope for the develop ment of ideas, and for extension activities. All activities reinforce English teaching in schools, and reflect the National Curriculum. There is a practice page and 'secret' notes for grown-ups in a gatefold at the back of the book. Comes with a special wipe-clean pen which is very satisfying to write with, and easy to wipe. Part of the hugely successful Usborne Wipe-clean series, the Key Skills titles teach children the basics of a variety of Maths, English and Science topics. ...Show more
$23.00
NZD
Category: Writing Skills | Series: Write Your Own
Inspire a new generation of science fiction and fantasy writers with this write-in book, filled with an exciting and eclectic range of writing activities, tips and advice. Activities teach how to structure a plot, craft realistic characters, create thrilling action scenes and end a story with a cunning twist. ...Show more
$23.00
NZD
Category: Biography & Autobiography
The Book That Made Me is a celebration of the books that influenced some of the most acclaimed authors from Australia and the world. Inspirational. Affecting. A perfect collection of personal stories for book lovers! Personal stories by fantastic authors such as Markus Zusak, Jaclyn Moriarty, Shaun Tan, Mal Peet, Ambelin Kwaymullina, Simon French, Fiona Wood, Simmone Howell, Bernard Beckett, Ursula Dubosarsky, Rachael Craw, Sue Lawson, Felicity Castagna, Benjamin Law, Cath Crowley, Kate Constable, James Roy, Alison Croggon, Will Kostakis and Randa Abdel-Fattah. Also features black and white cartoons by Shaun Tan! All royalties from the sale of the book will go to the Indigenous Literacy Foundation. The book will also include the ILF logo and information about the organisation. ...Show more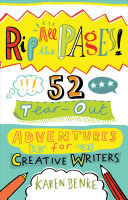 $26.00
NZD
Category: Writing Skills
This is the activity book for out-of-bounds creative writing fun. Full of zany, silly, and thoughtful prompts, this book will help you take your writing to new places, literally! Write a wish and fold it up into a paper crane; write a secret poem, then place it somewhere for a stranger to find; write yo ur hopes and dreams, and then send them soaring as a paper airplane--there's no end to the imaginative ways to use words and paper. Unleash your creativity! ...Show more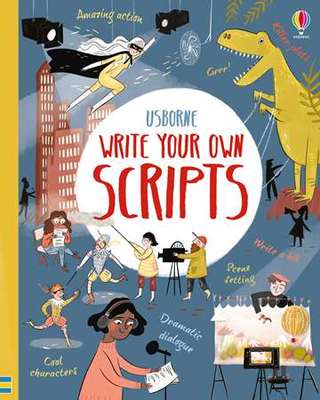 $23.00
NZD
Category: Writing Skills | Series: Write Your Own
A write-in book filled with a wide range of script-writing activities, tips and advice. The book will inspire a new generation of scriptwriters and playwrights to write and perform their own shows. Simple exercises at the beginning introduce all the key concepts in imaginative ways. Later exercises prov ide the framework to put them together in complete scripts. A lively DIY aesthetic inspires the book. Children are encouraged to produce shows and films of their own work. The book will be a leaping-off point for lots of amazing shows and awesome imaginative play. Lively illustrations, writing prompts and story ideas will fire writers' imaginations. ...Show more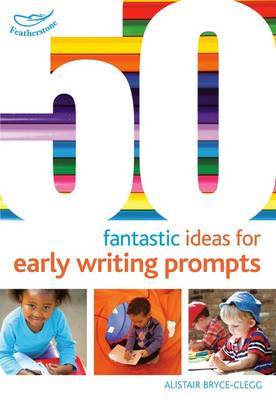 $25.00
NZD
Category: Writing Skills | Series: 50 Fantastic Ideas
If children are not interested or motivated by what they have been asked to write about, you can be sure that any writing you do get will be rushed, short and a bit half-hearted. In 50 Fantastic Ideas for Early Writing Prompts, Alistair Bryce-Clegg offers a collection of all of his favourite ideas and i nspirations that have motivated the children he works with to pick up their pencils and get scribbling ...Show more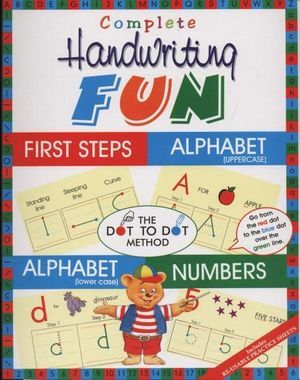 $10.00
NZD
Category: Writing Skills
Teach your child to learn and write first steps, alphabets (uppercase and lowercase) and numbers on his own, in the most easy way with the new 'dot to dot' method. Handwriting essentially translates into knowing the direction in which the line flows. The 'dot to dot' method now completely simplifies this. Make the child use his finer to 'go from the red dot to the blue dot over the green line'. Having mastered this, the child is now ready to pick up the pencil and go over the same process again. Before you even know it, he has learnt to write the alphabets/numbers on his own and is eager and confident to start on the next one. ...Show more
$13.00
NZD
Category: Writing Skills | Series: Wipe Clean Workbooks
A new edition to the bestselling Wipe Clean Workbooks series, packed with early learning exercises. This book has wipe-clean pages, and comes with a wipe-clean pen, so the activities inside can be completed, wiped away and repeated time and time again.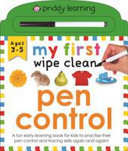 $15.00
NZD
Category: Writing Skills | Series: My First Wipe Clean
This brand new series of wipe clean books are an ideal introduction to writing.The wipe clean pages allow children to practice the activities again and again.The bright coloured design and simple instructions encourage pre-schoolers to develop skills.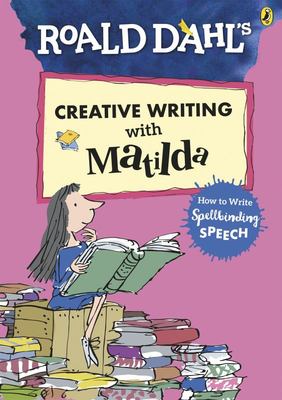 $13.00
NZD
Category: Writing Skills | Series: Roald Dahl's Creative Writing: Matilda
Create wonderful dialogue to give your characters a voice! Write conversations and reported speech with Matilda. These fun activities and writing tasks help to develop language and vocabulary skills, giving you the tools you need to write your own story. Learn how to write authentic dialogue, experimen t with silence and reveal what a character is thinking. Roald Dahl's Creative Writing sparks creativity, builds confidence and inspires young writers through the wonderful worlds of these best-loved stories. Filled with top tips and ideas boxes, each book introduces techniques and methods to help you plan and write a phizz-whizzing story of your own! ...Show more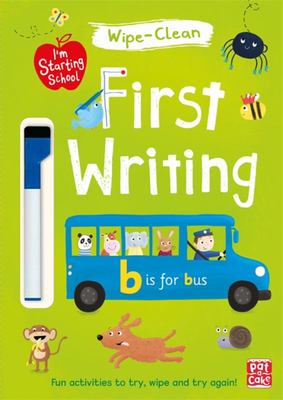 $15.00
NZD
Category: Writing Skills | Series: I'm Starting School | Reading Level: Children's - Kindergarten, Age 5-6
Give your children a head start at primary school with this essential wipe-clean activity book. A fun and engaging First Writing activity book that will give children a head start as they get to grips with handwriting at school. Designed to complement the National Curriculum, it gently introduces childr en to handwriting skills and equips parents with the tools and information needed to support them. The consultant-approved activities are fun to do and combined with funny pictures and silly jokes that children will love. The first steps to school success! This book includes: Carefully chosen practice words that increase a child's vocabulary. Directional instructions for right and left-handed children. Wipe-clean pen. Also available: First Phonics, First Numbers, First Day, First Phonics Flash Cards, Times Tables Flash Cards ...Show more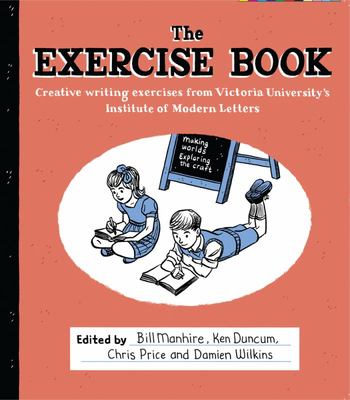 $35.00
NZD
Category: Writing Skills
The Exercise Book collects over fifty creative writing exercise used by Bill Manhire and his colleagues, not only at Victoria but throughout New Zealand and around the world. The celebrated writer/teachers who have contributed include Elanor Catton, Curtis Sittenfeld, Emily Perkins, David Vann, Elizabet h and Sara Knox, Dora Malech and Kirsty Gunn. This book will be an indispensible resource for teachers and students, and excellent stimulation and entertainment for anyone wanting to give writing a go. Exercises give your body a work-out.These exercises do the same for your imagination. The Exercise Book is full of stimulating trigger ideas – a treasure trove for writers.  There are writing prompts here that will help those who are just beginning. There are others that tackle the dreaded condition known as writer's block. Several exercises are designed specifically for the high school classroom. The contributors are all published and successful writers. They include staff from Victoria's famed creative writing program – Ken Duncum, Bill Manhire, Chris Price, Damien Wilkins – and many others associated with the program as teachers and graduates. There are exercise ideas from writers like Emily Perkins, David Vann, Nigel Cox, Curtis Sittenfeld, Kate De Goldi, Dora Malech, Lavinia Greenlaw, Laurence Fearnley, Eirlys Hunter, James Brown, Kate Camp, Dinah Hawken, Jenny Bornholdt, Paula Morris, Hinemoana Baker, Catherine Chidgey and Kirsty Gunn – plus advice on how to create whole fictional worlds from Elizabeth and Sara Knox, from David Geary and Eleanor Catton. In between are exercises from a host of New Zealand and international writers that explore the nuts and bolts of craft – in poetry, fiction and scriptwriting – along with others that tap the sources of inspiration or show the value of revision and editing.   ...Show more