The Telegram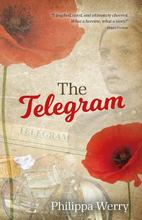 Stock information
: $23

.00

(NZD)

: 9780473462826
: Pipi Press
: Pipi Press
:
:
: January 2019
:
:
: 23.0
:
:
: books
:
:
:
:
:
:
:
:
: 288
: Philippa Werry
:
: 823.2
:
:
:
: Paperback
:
9780473462826
Local Description
Ruth's Review: Beaty, 14, loves school but when her widowed mother's hours are cut at the sewing factory, she has to leave and start work as a telegram deliverer for the Post & Telegraph Office. It is 1917 and the telegram boys and one girl are the harbingers of dread as they deliver by bicycle unwanted news to the relatives of soldiers who have been killed, wounded or are missing in the Great War that is raging in Europe. But there are also cheerful telegrams containing birthday and Christmas greetings and announcements about the arrival of new babies. Beaty takes to her new job, memorising the multitude of rules quickly, learning the shortcuts as she cycles around town and even picking up how to do Morse Code from the telegraph operators. Fellow worker and bully Leonard tries to make life difficult and she is anxious about her friend's brother Caleb who enlisted still aged 16. But Beaty is a resourceful girl, determined to prove that she can do the job just as well as the boys and refuses to let too many obstacles get her down. Werry skilfully weaves historical facts into the story, such as news from the Front in Caleb's letters, the disillusionment and health problems faced by wounded returning soldiers, the influenza epidemic and daily life on the home front. She includes a historical note at the back along with photos and newspaper clippings and even the Morse Code chart. I really enjoyed Beaty's story which focuses on how capable women were as they had to step in and take over many of the men's roles. The timing is spot on too – just as we commemorate the centenary of the end of World War 1 and the flu epidemic. Recommended for age 11+
Description
Fourteen-year-old Beatrice Thomas lives with her widowed mother and younger sister Tilly in a small country town overshadowed by the events of World War One.
Many of the local boys, including Beaty's friend Caleb, are away fighting. When Beaty has to leave school, she gets a job as a telegram girl at the Post and Telegraph Office. It's a hard job, especially when she has to deliver news of war casualties. She must convince the telegram boys, and herself, that she's up to the task, at a time when women's roles were limited.
Meanwhile, Caleb's letters turn darker as his initial enthusiasm fades and reality takes over. Rumours of peace start to spread, but Beaty continues delivering telegrams through the Armistice, the peace celebrations and the dreadful influenza epidemic. Soon she's running the Post Office almost single-handed. Then Caleb's letters stop arriving.
Awards
Finalist in the 2019 NZ Book Awards for Children & Young Adults - Junior Fiction Wright Family Foundation Esther Glen Award