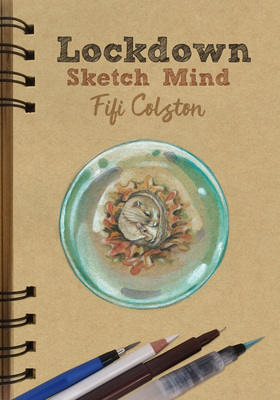 $25.00
NZD
Category: NZ Non Fiction
An illustrated diary of the Covid-19 lockdown thoughts and observations of award-winning Wellington author and illustrator Fifi Colston. Drawing and writing have always been Fifi Colston's go-to places in good times and bad. With New Zealand in strict lockdown due to the Covid-19 pandemic, her work as a freelance artist – illustrating books, facilitating workshops and teaching art to school students – was put on hold indefinitely. Unable to make a living bringing other people's words to life through her art, Fifi turned to her trusty sketchbook to tell her own story, day by day as the weeks unfolded. Posted online, her identifiable visual style and humorous captions drew a responsive audience trying to make sense of the uncertainty of a unique situation they had to rapidly accustom themselves to. In recognition of this, Fifi has left blank spaces in Lockdown Sketch Mind so readers can add their own experiences. ...Show more
$25.00
NZD
Category: Activity & Puzzle Books
You'll have lots of creative fun with this book full of puzzles, quizzes and activities that explore Aotearoa New Zealand and its people. Based on Gavin Bishop's bestselling Aotearoa- The New Zealand Story and Wildlife of Aotearoa, this activity book is a place for you to tell your own story in words an d pictures.You'll- learn to introduce yourself in Maori- solve puzzles and crack codes- play games- invent a superhero- draw your future home- make maps- curate your heroes in a wall of fame- design a flag- create a menuand much more!Packed with quizzes, mazes, colouring pages and activities designed to stimulate bright minds, this is the ideal activity book for creative children aged 5-12. ...Show more
$20.00
NZD
Category: NZ Picture Books
Search for clues hidden in the pictures and help Hound to solve the riddle in this delightful return to the world of Puffin the Architect.I'm Hound! And I'm a sleuth.I solve all types of cases.I sniff and snuff until my nosedetects the clues and traces.Missing jewels, stolen cars -I always solve the cri me.My latest case arrived by post.Ha ha - detecting time!This gorgeous, multi-layered and engaging whodunnit by an award-winning writer has a delightful surprise at the end. Readers will love studying each action-packed illustration, poring over the details of Hound's secret passages and map, spotting the adorable animals lurking in the pictures, and finding the caterpillar hidden on every page. ...Show more
$21.00
NZD
Category: NZ Middle Fiction
It's Singapore in 1940, war is just around the corner-but twelve-year-old Lizard doesn't know that. He lives in Chinatown above a tailor's shop, surviving on his wits and hustling for odd jobs. When he steals a small teak box containing a Japanese code book from a Raffles Hotel suite, he finds himself in a dangerous world of wartime espionage. Lizard doesn't know who to trust. How is the mysterious book inside the box connected to his friend Lili, a girl full of secrets and fighting skills? Can he trust her, or will she betray him in the end? Lizard's Tale is an action-packed adventure for middle-grade readers, set in a British colony in Asia as the Japanese invasion of Singapore looms. ...Show more
$8.00
NZD
Category: NZ Junior Fiction
In the first Showtym Adventure, Vicki must train her own wild pony in order to continue her dream of riding. When nine-year-old Vicki Wilson's beloved lease pony is sold, she is heartbroken. Her family doesn't have much money, and she is desperate to have a pony of her own so she can keep riding. Then Vicki has the chance she has been waiting for, to tame and train her own wild pony! How will she earn the trust of her beautiful new chestnut? And will Dandy ever be quiet enough for her to ride at Pony Club or compete at Ribbon Days? This story is inspired by the Wilson Sisters' early years, where Vicki, Kelly and Amanda Wilson first encounter horses in the wild and learn what it takes to make them champions. ...Show more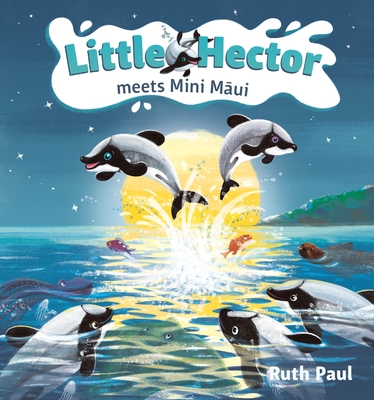 $19.00
NZD
Category: NZ Picture Books
In the sparkling third adventure of Little Hector, our daring hero meets his special Maui cousins and learns about friendship. Little Hector is off on a holiday to meet his rare and special cousin, Mini Maui. For the first time in his life, Hector is the BIGGER dolphin. But Mini thinks he's BOSSY. Will they ever be friends? The third story in award-winning author Ruth Paul's Little Hector series introduces readers to the world's smallest and rarest dolphin species - and shows that friendship isn't about size, it's about sharing. ...Show more
$25.00
NZD
Category: NZ Picture Books
From glittering galaxies to busy city streets, this stunning picture book takes you on a tour around the Universe. I am the Universe, an infinite space of glittering galaxies. It's a starlit journey through space that will lead you to a wonderful planet brimming with all kinds of life - including your s. This stunning story demonstrating the scale of the Universe and our place in it was created specially for children aged three years and up by the award-winning author-illustrator Vasanti Unka, who lives in Auckland, New Zealand, the Earth, the Solar System, the Galaxy, the Milky Way, the Universe. ...Show more
$19.00
NZD
Category: NZ Middle Fiction
'It's one of them days when everything is off. A hot sweaty night in Rusty Bus means we kids is all grouchy-tired. Me and my best friend, Jaguar, is trying to cool down by taking turns at dipping in the sea pool. Him standing on the sea wall made from car frames and rocks on lookout for crocs, me swimmi ng, then we'll swap places. We's always doing things as a team, him and me. We's gonna be the best fisher people and the best salvagers on the whole of the inland sea one day.' Neoma and Jag and their small community are 'living gentle lives' on high ground surrounded by the risen sea that has caused widespread devastation. When strangers from the Valley of the Sun arrive unannounced, the friends find themselves drawn into a web of secrecy and lies that endangers the way of life of their entire community. Soon daring, loyal Neoma must set off on a solo mission across the risen sea, determined to rescue her best friend and find the truth that will save her village. Across the Risen Sea is another thrilling adventure for young readers from the bestselling author of How to Bee and The Dog Runner. ...Show more
$20.00
NZD
Category: NZ Picture Books
In the third of his Maui books, Donovan Bixley re-tells the story of how Maui captured the secret of fire. The traditional tale but with Donovan's unique twist and trademark humour. The pictures are bright and bring their own level of humour to the book.
$30.00
NZD
Category: General Graphic Books
A graphic-novel mystery adventure for eight- to twelve-year-olds in which a girl and boy uncover the secret that has corrupted their seaside town. "Haven't you always thought there's something WEIRD about this town, Miro?" Miro and Zia live in Aurora, a fishing town nestled in the shadow of an ancient c astle. Miro lives in his books; Zia is never without her camera. The day they meet, they uncover a secret. The fishing works, the castle, and the town council are all linked to an ill-fated 1930s Antarctic expedition. But the diary of that journey has been hidden, and the sea is stirring up unusual creatures. Something has a powerful hold over the town. With Zia determined to find out more, Miro finds himself putting aside his books for a real adventure. The Inkberg Enigma is an exciting adventure with a strong filmic narrative. ...Show more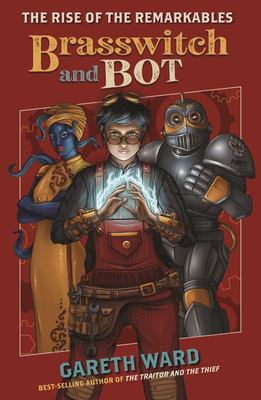 $23.00
NZD
Category: NZ Middle Fiction | Series: The Rise of the Remarkables
Drawn into a world of prejudice, deceit and danger, Wrench must master her powers, knowing they offer her only hope for survival . . . if they don't destroy the world first. Screams surge along York's narrow Victorian streets as a run-away crackle-tram races toward disaster. Fearing an accident like the one that killed her parents, Brasswitch Wrench is forced to reveal her powers - a decision that will change her life forever. Recruited to the sinister department of Regulators who hunt down others like her, Wrench teams up with their maverick mechanical leader, Bot as they are tasked with halting the rise of the aberration threat. Until today, being called Brasswitch would have got you killed. Now, it might save your life. ...Show more
$20.00
NZD
Category: NZ Picture Books
As a small country school prepares for its Christmas end-of-year show, they get a call from Santa, who is on his way to the hall when he runs into a spot of trouble! Fortunately, the Little Yellow Digger is on hand to rescue Santa and his truck full of presents.