$40.00
NZD
Category: Science
A visual introduction to our planet and society told through the history of our greatest inventions and the technology that has changed the world. In his signature playful style, Peter Goes illustrates the most fascinating technologies, from the first tools to the most specialized IT, from medical brea kthroughs to the creation of YouTube. He includes remarkable scientists and innovators and highlights lesser-known stories. A compelling history of technology from the Stone Age to the present day, from America to the Southern hemisphere and beyond. ...Show more
$23.00
NZD
Category: Lift-the-Flaps | Series: Usborne See Inside
This title tells the wonderful, mysterious and often funny stories behind famous inventions. Flaps reveal lovingly detailed artwork to show the hidden workings inside inventions. Carefully researched text explains the differences between discovery, invention and innovation, and how these three aspects u nite. ...Show more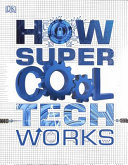 $30.00
NZD
Category: Technology & Industry
Explore future technology, such as robotics, space rockets, artificial intelligence, and even the PS4 console in this cutting-edge non-fiction science book for kids aged 9 and over. How Super Cool Tech Works follows on from the original How Cool Stuff Works, which has sold more than 3.5 million copies. It explains how the incredible technologies of today will shape the world of tomorrow. This includes state-of-the-art buildings, new ways of travelling, imaginative entertainment gadgets, space exploration, and even how teleportation and invisibility cloaks might be possible in the future. Each technology is explained in detail, via crisp images and engaging, child-friendly text. "How it works" panels explain the secret inner workings of everything from supercomputers to flying cars, and underwater hotels to drones. New and updated for 2020, How Super Cool Tech Works is a one-stop shop for kids who want to know what the latest and greatest technologies are, and how they will shape our world in the years to come. ...Show more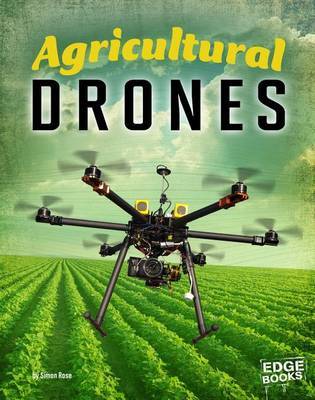 $16.00
NZD
Category: Technology & Industry | Series: Edge Books
Farm fields can span hundreds of acres. With so much area to cover, checking crops and livestock can be difficult. But with an agricultural drone, this job becomes much simpler. Young readers will discover how drones help farmers maximize efficiencies and bring abundant harvests.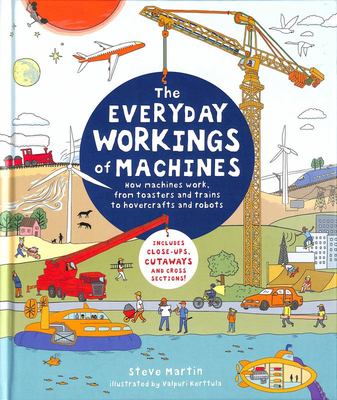 $28.00
NZD
Category: Technology & Industry
How does a train stay on the tracks? What's going on inside a pogo stick? How do cranes work? And what happens when you flush a toilet? These and many more important questions are answered in this fascinating book. From toasters and telephones to hovercrafts and robots - the inner workings of machines b ig and small are brought to light using a stunning mix of cross-sections, close-ups and cutaways. ...Show more
$35.00
NZD
Category: Reference Books
From the No. 1 bestselling author of What If? - the man who created xkcd and explained the laws of science with cartoons - comes a series of brilliantly simple diagrams ('blueprints' if you want to be complicated about it) that show how important things work: from the nuclear bomb to the biro. It's goo d to know what the parts of a thing are called, but it's much more interesting to know what they do. Richard Feynman once said that if you can't explain something to a first-year student, you don't really get it. In Thing Explainer, Randall Munroe takes a quantum leap past this: he explains things using only drawings and a vocabulary of just our 1,000 (or the ten hundred) most common words. Many of the things we use every day - like our food-heating radio boxes ('microwaves'), our very tall roads ('bridges'), and our computer rooms ('datacentres') - are strange to us. So are the other worlds around our sun (the solar system), the big flat rocks we live on (tectonic plates), and even the stuff inside us (cells). Where do these things come from? How do they work? What do they look like if you open them up? And what would happen if we heated them up, cooled them down, pointed them in a different direction, or pressed this button? In Thing Explainer, Munroe gives us the answers to these questions and many, many more. Funny, interesting, and always understandable, this book is for anyone -- age 5 to 105 -- who has ever wondered how things work, and why. ...Show more
$23.00
NZD
Category: Lift-the-Flaps | Series: Usborne Look Inside
This smart lift-the-flap book takes a agood look inside the 'brain' of a computer. A useful and detailed introduction to a topic that has never been more important.
$25.00
NZD
Category: Technology & Industry | Series: Lonely Planet Kids
There's no going back, Agent. Once you enter this book, your training will begin as you join the secret world of spies. You'll rise through the ranks from recruit to secret agent, learning a host of skills to put into covert operation immediately. Get the scoop on some of the biggest agencies in the wor ld, discover the coolest gadgets out there, crack some fiendish codes and lots more. For aspiring spies aged 8 years and up. Great for on-the-road entertainment. Authors: Lonely Planet Kids About Lonely Planet Kids:From the world's leading travel publisher comes Lonely Planet Kids, a children's imprint that brings the world to life for young explorers everywhere. We're kick-starting the travel bug and showing kids just how amazing our planet is. Our mission is to inspire and delight curious kids, showing them the rich diversity of people, places and cultures that surrounds us. We pledge to share our enthusiasm and continual fascination for what it is that makes the world we live in the magnificent place it is. A big adventure awaits! Come explore. Award-winning children's titles from Lonely Planet include The Amazing World Atlas(Independent Publisher Award, Gold for Juvenile Multicultural Non-fiction, 2015), How to Be a Space Explorer (Independent Publisher Award, Silver for Juvenile Non-fiction, 2015), Not For Parents The Travel Book, Not For Parents Paris, Not For Parents London, Not For Parents New York City,and Not For Parents Rome(all Parent Tested Parent Approved winners, 2012). ...Show more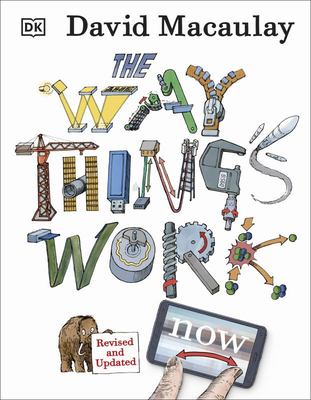 $55.00
NZD
Category: Technology & Industry
This revised edition of David Macaulay's classic The Way Things Work takes you into the inner workings of hundreds of machines and explains the science behind their technologies. From the simple lever to the modern microprocessor, this bestseller has been completely updated with the latest technologies and explains every machine you've ever wanted to understand, and some you've probably never thought about. From clocks and watches, to jet engines and the internet, David Macaulay's beautiful illustrations represent the inner workings of each machine. With David Macaulay's inspired illustrations and humorous approach, The Way Things Work makes even the most complex technology fun, fascinating and accessible for children of all ages. ...Show more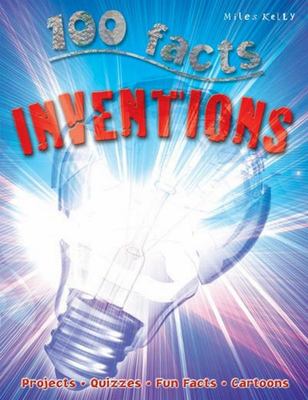 $8.00
NZD
Category: Technology & Industry | Series: 100 Facts
100 Facts Inventions book for kids is bursting with exactly 100 fascinating facts, awesome images and fun activities to help children learn everything they need to know about discoveries, developments and creations. 100 Facts Inventions book for kids covers key topics about the history of inventions in simple numbered facts. Every page is covered in fantastic illustrations and photographs that support a child's understanding of the text. Essential topics covered in 100 Facts Inventions: Inventions through the ages such as fire in the Stone Age and smartphones in the Modern Age Progression in communication, transport, weapons and household appliances The technology of the future Examples of 'I don't believe it' fascinating facts: The earliest steam engine was totally useless. Around 2000 years ago a Greek engineer invented a steam machine with a spinning metal ball. Unfortunately no one could think of any use for it. A 15th-century Chinaman, Wan Hu, tried to make a flying machine out of 47 rockets and two kites. His servants lit all the rockets at the same time, and Wan Hu disappeared forever! Some Stone Age people invented the first fridges! They buried spare food in pits dug in ground that was always frozen. Activities to make learning accessible and interactive include: Quiz question: Were early refrigerators dangerous because (a) they blew up or (b) they leaked poison gas? Make a shadow clock using a garden cane stuck in a flat piece of ground. Measure the shadow every hour using a marker, from 9am to 4pm, and note which hour casts the shortest shadow Rub your hands together really fast to feel how they become warmer. Rubbing things together is called friction, and friction causes heat Author: Duncan Brewer Consultants: Barbara Taylor, Ste ...Show more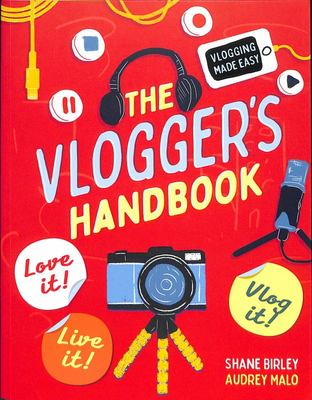 $25.00
NZD
Category: Technology & Industry
This fun, comprehensive guide to vlogging delivers the skills and tips you need to get started, produce a professional look, develop your skill level, and cultivate your creativity. With a fresh, stylish design and bite-sized text and project prompts, this is a no-nonsense approach to learning about: Setting up and uploading a vlog Inspiration for what to vlog about How to storyboard a vlog Lighting and props Advanced video skills Editing your vlog Adding sounds and effects Building an audience Making your vlog pay Internet and social media safety guidance Throughout the book, Q&A panels feature successful young vloggers who give their own personal tips and stories about how they got started. Your own vlogging success comes next! ...Show more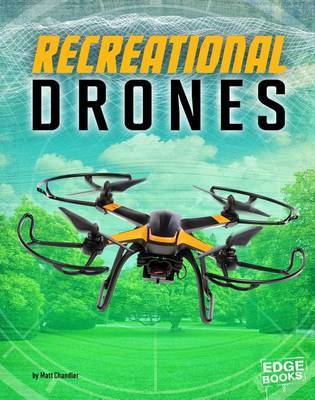 $16.00
NZD
Category: Technology & Industry | Series: Edge Books
Helicopters and airplanes aren t the only aircraft launching to the skies anymore. Thousands of recreational drones are launched every day. Whether owners make their own drones or buy them, recreational drone use shows no signs of slowing down. Young readers will learn all about these UAVs and the rules those flying them need to follow." ...Show more